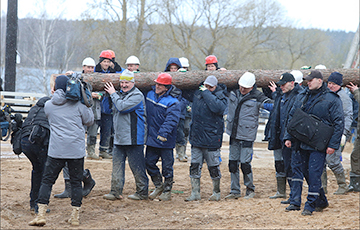 That's why policies desirable by the majority of voters must be made transparent and mandatory

In the previous blog post, among other things, I outlined my proposals to make face masks mandatory in the public interior spaces (and perhaps under other conditions) during the winter flu season, at the places with massive flu outbreaks, in analogy with policies that almost certainly suppressed the spreading of Covid-19 in my country and others. The number of weeks that we spend in the bed with fever may very well drop to a tiny fraction of the current value.

Fer137 protested and argued that instead, such duties (to wear the mask) should be voluntary. The problem is that the bulk of the crazy characteristic behavior of the humans in communism was "voluntary-compulsive" and when it comes to the number of these things, the contemporary America is arguably more Soviet than the Soviet Union ever was. Well, let's start in the Soviet Union, the main communist country during the Cold War era, and look e.g. at the definition of a subbotnik (the picture at the top is relevant):
Subbotnik... was a day of volunteer unpaid work [during the weekends]. Initially they were indeed voluntary but gradually de facto obligatory from announcement, as people quipped, "in a voluntary-compulsive way" (в добровольно-принудительном порядке).
It was really a big part of the totalitarian power, and a huge sign that the civilized rule of law didn't exist, that the powerful could have made things obligatory in a voluntary-compulsive way. People were obliged to say it was voluntary but they were also obliged to do it! The powerful had so much power that they could force the whole population to do something even without writing anything (any law). When they said "something would be nice", it was done! Well, only the time was spent by the enslaved nation; the economic results of these policies were usually poorer than the rulers dreamed.