Thankfully, the number of the new casualties in Ukraine remains relatively low. Whether we call the confrontation "a civil war" is a matter of terminology and only with the hindsight we will acquire in the future, we will be able to decide whether it is an appropriate word for the recent events.
The attitude of the would-be mainstream Western politicians, institutions, and media (and the brainwashed hundreds of millions of average citizens who never question anything they are fed) looks staggeringly hypocritical, cruel, and just plain idiotic to me. My overall sentiment concerning the U.S. interventions has been positive until recently. You know, I live in a city that was grateful to the U.S. army for the liberation from Nazism. (Unfortunately, this liberation wasn't enough to give the words "Western Bohemia" the same ring and political meaning as the words "West Germany" LOL.) This positive sentiment has survived doubts about the U.S. excursions to Yugoslavia – where I would already notice a significant anti-Serbian xenophobia of the U.S. approach – and neutral or counterproductive interventions in Afghanistan, Iraq, and elsewhere.
The U.S. had the moral right to "do something" in Afghanistan after 9/11 while, as we know today, it didn't have a sufficient justification for its operations in Iraq a decade ago. However, I think that with the hindsight, the results in Afghanistan are worse than those in Iraq. Afghanistan is really "unfixable". It is foolish to expect that Afghanistan may be turned into a productive capitalist democracy similar to the Western ones. It is a highly undeveloped nation on drugs which has no real chances to be "like us". Iraq is different and the intervention may already be seen as a net positive.
However, my opinion about the U.S. meddling in the other countries' affairs has dropped below zero because of the events in Ukraine and it will stay below zero for quite some time. I will surely belong among those who will encourage America to "stay home" and "shut up" for years to come. (The EU is nearly silent and irrelevant in all these disputes which is why I won't talk about it at all – but whatever I say about the U.S. media holds for the European ones, too.) At the end of 2013, powerful forces in the U.S. – and the bulk of the population brainwashed by the "mainstream" – has decided that it was time to convert Ukraine into a rich anti-Russian EU country, or something insane like that, so they did everything they could to undermine the democratically elected and totally legitimate government of Mr Yanukovitch.
He is no real hero of mine but he was a clear victim. A poor guy. The PC propaganda machine has been loudly screaming when this legitimate president ordered his cops to use rubber bullets against dangerously aggressive demonstrators (who ultimately overthrew the government, indeed) for a few weeks. Now, the totally illegal and illegitimate de facto government of Western Ukraine invaded Eastern Ukraine with tanks and
jets flying a few meters above the ground
– apparently in order to extend their power over Eastern Ukraine, too, after they broke into several buildings in Kiev. They are using
tanks and jets
against their own people – or at least citizens of territories that they want to call "theirs".
There isn't a slight dissatisfaction among the official PC Western forces. A legitimate president can't even use rubber bullets but an illegitimate, coup-appointed de facto government is allowed to calm the unsatisfied citizens with tanks? I agree with Putin that
these people are just insane
, and so are the people in the West who suddenly endorse this intended genocide.
Fortunately, most of the soldiers are sensible folks who haven't been mentally paralyzed by the anti-Russian war propaganda. So when the Maidan-controlled kids arrived to Kramatorsk or Slavyansk (or both) with their tanks, the local folks asked them whether they wanted to shoot peaceful civilians. After some exchange, they realized that none of them is really insane and they didn't disagree about anything.
So the six or ten or more tanks were seized by the pro-Russian militia
which has peacefully used them as
cool toys
. ;-)
So nothing dramatic and deadly is really taking place in Eastern Ukraine. So far. (Last night, I was told during an investor seminar that nothing serious will happen in the future, either. It would be against the economic interests of everyone involved. Well, I am
not so sure
but OK. The second part of the event was a lecture about Caribbean rums and their tasting; I could actually distinguish them, kind of.) But that's only thanks to the rather ordinary people's being sensible. If things were up to the folks like John McCain or the current de facto government of Western Ukraine and if they could really control the Ukrainian army, there would already have been thousands of casualties in Ukraine.
Meanwhile, a part of the Western press wants to spread the meme that everyone who opposes the Maidan-appointed de facto government of Western Ukraine (or, as it would like to describe itself, a government of the whole Ukraine) has to be a personal agent of Vladimir Putin. In my optics, these ideas are exactly on par with the theory that the moonlanding was staged in Nevada or New Mexico. Have you lost your mind? There are clearly tens of millions of Ukrainian citizens who feel closer to the current government in Moscow than to the current de facto government in Kiev. The reasons why they feel so are a matter of common sense. You must be a complete idiot not to understand these reasons. You had to be stupid beyond imagination if you couldn't have predicted that the coup in Kiev would lead to backlash, mostly in the East and Southeast. Millions of them are ready to participate in some minor resistance. Tens of thousands (and perhaps hundreds of thousands) are ready to use weapons to protect their political preferences and their individual and collective rights. The people who fundamentally disagree with the Maidan ideology are a huge fraction of the citizenship of Ukraine – and arguably a majority. To deny that these tens of millions with their legitimate rights and their own opinions exist (everyone like that must be an agent hired by Putin!?) is similar to the denial of the Holocaust.
I liked a yesterday's
Peter Lavelle's CrossTalk on Russia Today
that was dedicated to Russophobia. The debaters finally managed to point out that the main source of Russophobia in the "mainstream" discourse of the West are the "liberals", in the sense of the contemporary leftwingers. Their group think and requirements of uniformity resemble the Comintern 80 years ago or so. They can't live with the slightest deviations from the PC orthodoxy – look how the EU reacts to some modest specifics of the Hungarian nation and politics. They hate contemporary Russia because Russia defends many of the pre-Soviet, Russian-Empire-like traditional values such as the traditional family, patriotism, economic pragmatism, and tolerance towards people's differing interests and dreams, and so on. The debaters also pointed out that Russophobia plays the same role of the attractor of stupidity that anti-Semitism would play in the 1930s and 1940s. Every other idiot seems to be using Russia as an excuse for his own mistakes, for the fact that his own decisions didn't lead to outcomes he would prefer. Some of them hope that this strategy will inevitably get depleted in some timeframe.
As a kid, I would believe that (most) people were inherently sensible and fair. I would think that e.g. the Holocaust had to be some insanely unlikely anomaly or a result of some rare collective pandemics affecting the brain. But the people who endorse the Maidan regime today when it sends tanks against the innocent yet inconvenient Russian population in Ukraine and who even want to supply weapons to this illegitimate regime clearly have the same psychology as the anti-Semitic Nazis around 1940. They must really treat some nations (or their ethnically or ideologically defined subsets) as trash even though these nations are actually more peaceful, more productive, and more developed than the nations (or their ethnically or ideologically defined subsets) that they mindlessly and uncritically support. Nothing is beyond the pale for them. I am scared of them. I am scared of every brainwashed person who can't see how totally unfair and hypocritical all this treatment is. I am scared by those who don't want to allow the citizens of Donetsk to show their dissatisfaction with the current illegal de facto government – although analogous (but more angry and hateful) demonstrators in Kiev had all the support against a legitimate government. I am scared of the fact that there are hundreds of millions of such people, too. This high number almost makes me afraid of saying that these brainwashed mobs suck.
The coup in Kiev couldn't have led to anything positive. It was a criminal activity, a violation of the basic constitutional order in a country that would need several silent, problem-free decades to become more than a nearly failed, non-uniform state. The equilibrium and peaceful co-existence – and gradual homogenization – of the different ethnic and political cultures living on the Ukrainian territory has to continue for some time before the most visible problems and tensions fade away. Democratic elections and a smooth reign of the elected governments is really needed for that. An aggressive coup by a subset of the Ukrainian nation that lost the last legitimate election just couldn't be a path to stability and peace. Whoever thinks it could is a lunatic. At most, it could transfer the political battle between the vastly different groups in Ukraine from the world of ballots to the world of bullets. And that's simply not a good transformation of the political order.
Alternatively, Ukraine has to be reorganized, federalized, or partly annexed by Russia, according to a sensible plan that will be agreed by both sides. But no good outcome of this sort may ever be achieved if one side refuses to even admit the existence of the other side – and its legitimate rights, its priorities, its intrinsic power, and its support behind the borders. All these aspects have to be realistically taken into account by both sides if they ever agree about any constructive future – that would at least remotely resemble the Velvet Divorce of Czechoslovakia. So far, one of the sides – the Maidan regime and its deluded supporters in the West – has failed to even admit that there are tens of millions of people in Ukraine who don't want to accept a life under this regime.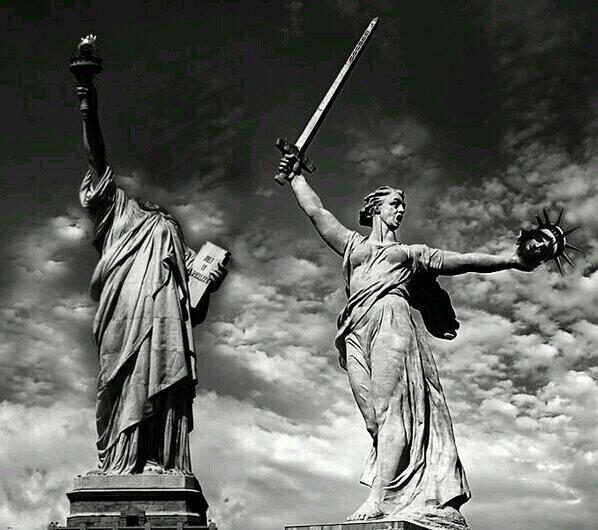 Yes, sure, dear U.S. readers,
Alaska is going to be annexed now
and it will be renamed Ice Crimea. :-)) But Putin will wait for the climate to get more pleasant over there so that the workers in Ice Crimea don't have to be subsidized too much.