Well, the historical record is surely encouraging for Russia. It hasn't lost in numerous wars (mostly in the 18th century) against Sweden – the last one, the 1808-1809 "Finnish War", meant that Sweden had to transfer Finland to Russia.
We're told that Sweden has glimpsed some foreign submarine(s) 50 km away from Stockholm and detected emergency radio signals from the submarine(s) on one side and the Kaliningrad region on the other side. The idea is that Russia is beginning to violate the sovereignty of Sweden.
Of course, one must be careful about far-reaching interpretations.
The submarine hunts
in Swedish territorial waters have been common for decades and the most famous one – sensationally involving the U 137 "fine-structure constant" Soviet submarine – occurred in 1981. Some of those operations may have been NATO false flag operations designed to affect the public opinion in "neutral Sweden", it may be true now as well, and all these things are very complicated.
Just to be sure, I believe that it is extremely likely that the newest submarine incident near Stockholm doesn't mean anything important. However, it seems reasonable to me to think about the possibility that it could mean something more important.
Sweden has complained about some recent incidents involving Russian aircraft, too. But what many people don't fully realize is that Sweden, just like Finland, Austria, Switzerland, and Ireland, is not a NATO member.
Except for Switzerland, these countries are EU members. On the other hand, Norway (like Iceland and Turkey – not to mention Albania that is hard to be imagined as a "friend") is "Sweden upside down" – a NATO member outside the EU.
Because Sweden isn't a NATO member, a possible invasion into Sweden could be considered analogous to the hypothetical incursions into Ukraine. Sweden's chances to defend itself would obviously be even lower than Ukraine would have if Russia decided to send its military against the neighbor state.
Just to be sure, I am not "accusing" Russia of any such plans and I don't think that the takeover of Sweden would be an adequate legitimate reaction to anything that has taken place. But the recent behavior of Sweden towards Russia has been
quite loud and arrogant
for such unprotected dwarfs.
And more importantly, I think that it would be a much more beneficial move for Russia to gain the control over Sweden than the hypothetical goals of taking some villages in Eastern Ukraine. I have already said that Sweden's defense would probably turn out to be irrelevant very soon.
But would the NATO member states defend Sweden in such a situation? I am not quite sure – and I am not sure whether they
should
, either.
If Russia invaded and occupied Sweden, it would undoubtedly find itself internationally isolated in a more visible way than the current undeserved isolation blamed on the events in Ukraine. But would this consideration be enough to discourage Russia from such a hypothetical invasion? I am not sure about the answer to this question, either. Russia knows that the sanctions are imposed by the West even if there is no reason for them – they are largely uncorrelated to what Russia is doing.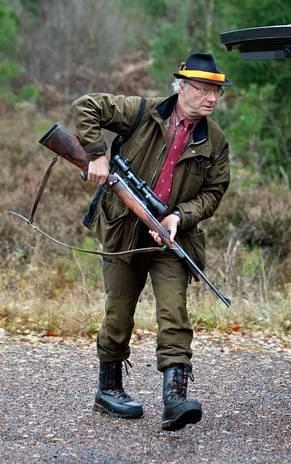 Carl XVI Gustaf is employed as a king of Sweden and is currently leading the search for a Russian submarine.
Instead, I am pretty sure that many people in Russia must be annoyed by the observation that the U.S. and/or NATO's behavior towards Russia resembles the education of a small boy. Some people in the West don't want to seriously think about the possible Russian military maneuvers against their countries and their cities, nuking of their cities, pretending that all these things are totally prohibited by the laws of physics. Well, they are not.
Russians were making "ABBA fun" out of Swedish official February 2014 pronouncements that Sweden would resist for a week without NATO.
So there are reasons why a takeover of Sweden could strengthen the position of Russia in the international affairs because Russia would make the point that a country participating in hostilities against Russia should better not assume that it is doing these things safely. Needless to say, the control over Sweden would also allow Russia to "surround" the Baltic states and Poland, make Russia much closer to the Western European capitals, and it would improve the abilities of Russia to defend its fossil fuel interests in the Arctic.
Again, I am not suggesting that such a scenario is likely – and I would find such events somewhat shocking.
But what greatly bothers me about the "mainstream" thinking in the West is the amazing (and constantly increasing) pettiness of the "threats" and "sins" (and usually just "hypothesized sins") that seem enough for the manipulation of tens of millions of people. The climate hysteria is a textbook example of this pettiness: tons of people have been brainwashed to believe that the temperature change by less than 0.1 °C in two decades which may have been affected by carbon dioxide in the air is something "so important" that we should introduce new taxes, perhaps ban coal power plants, and cripple the international relations because of that. It's like homeopathy – where people are led to believe the preposterous claim that an arbitrarily lowered concentration (often below one molecule) of a chemical compound is very important for the health.
Similarly, speculations that a few Russian soldiers helping to fight for some largely irrelevant towns somewhere in Eastern Ukraine may have some vague homeopathic relationships with the Kremlin is a sufficient justification for the West to totally poison the relationships with the territorially largest country in the world. Even if the accusation were right and those several Russian soldiers in Eastern Ukraine had been sent by the Kremlin, the reaction would be totally disproportionate.
Such an invasion into Sweden would be hardly justifiable, painful not just for Sweden, and dangerous for many reasons. But it may also restore some "sense of proportion" among many people in the West, convince them that the history as we have known it for centuries or millennia isn't over yet and the people claiming otherwise are hippie cranks, and that other powers than those controlled by the suffocating ideology of political correctness and the increasingly uniform and dumbed down popular media may also influence the world. And those may be important positives that could turn the hypothetical invasion into a mixed bag.
P.S.: Swedish sources began to say that the submarine is damaged – the justification is the Mayday signal – but Russia denied that any of its vessels has been damaged. I guess that it's compatible with the scenario that the submarine is alright and it's sending Mayday because it feels threatened by the Swedish military personnel.
Novaya Gazeta, a Russian opposition daily, argued that the submarine can't be Russian because the waters are too shallow for the nuclear ones and the others, smaller ones are just being repaired. Some other submarines are known to be in the North Sea.