The ATLAS Kaggle Higgs contest made a lot of sense. Today, some NYU+Oxford folks from ATLAS – working with the Zooniverse – have presented something similar. Except that I have no idea how I could usefully help them:
It's particle-hunting season! NYU scientists launch Higgs Hunters Project (Phys.ORG)

The press release above promotes the website
HiggsHunters.ORG

where you may sign up (with Zooniverse) and start to classify collisions.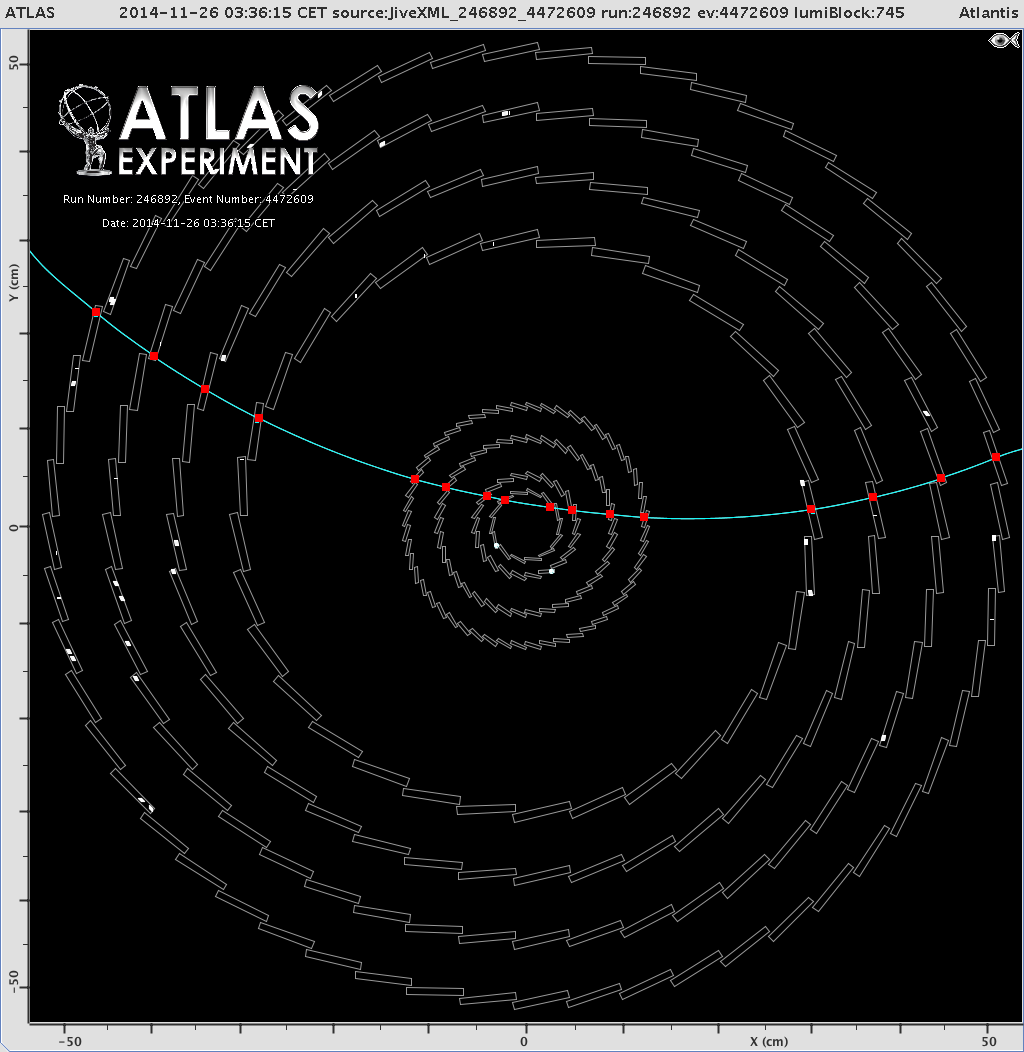 This new ATLAS picture isn't really from the contest but it's fun: it's showing a cosmic ray particle going through the magnetic fields in the detector.
What you will be asked isn't to write a clever computer program, like the contestants in the Kaggle competitions. Instead, you will visually evaluate some pictures of ATLAS collisions.
The ATLAS folks have probably run out of computers so they need to employ humans to do the job! Can you perform a few billion mathematical operations in a second? Or do you think that you may beat the computers just by your natural skills, intuition, and good eyesight?
Your task is to look for "off-center vertices" in the pictures – places away from the beam (from the center of the picture) where several or many trajectories of particles intersect. Some of those vertices could be decays of new "somewhat long-lived" particles.
The evaluation of a picture isn't a task in which the computers are maximally talented. However, I simply can't imagine how I could possibly do better than even rather simple programs that look at these pictures. Why isn't this contest about writing a program to recognize the patterns, like the Kaggle contest, instead of this manual work?
Moreover, I don't understand how the candidate collisions with possible "off-center vertices" have been selected. I hope that ATLAS isn't offering you random collisions taken from the list of trillions of collisions in the detector because that would be rather hopeless, indeed.
I've registered but I think that this is the end of my playful times on this server. I have no idea what to do with it. If you get further or decide that it's interesting or that you can even discover something that the experimenters can't, please, let me know!