Sad news: Alexandre Grothendieck, one of the 20th century best mathematicians, died.

Philae was the first man-made object that landed on a comet (thrice), after it made two "unnecessary" jumps (a two-hour jump plus another eight-minute jump). But an
important British member
of the team (he's really the
#1 scientist-in-chief in Rosetta
) is already finding himself under some heavy criticism, as BMWA1 pointed out.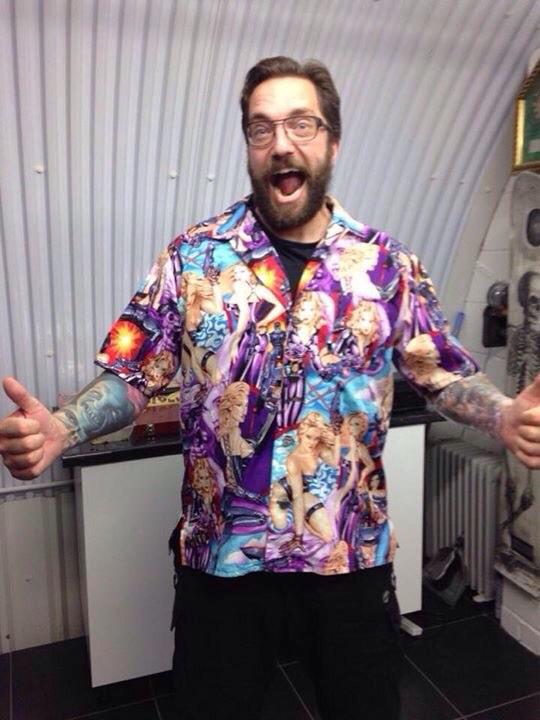 Try this video, and go to 1:42, to see an interview with this man. His tattoos are all about Rosetta.
This man was acknowledged to be important enough to be a spokesman for the media as well and CNN wrote a story (!) called
Philae researcher criticized for shirt covered in scantily clad women

Holy cow. Many other left-wing media including
The Washington Post
and
The Guardian
wrote hysterically negative "stories" while the center-right
Telegraph
and
The Daily Mail
reported on Taylor's appearance mostly positively. Pathetically enough, the far left-wing
The Independent
attempted a character assassination based on the claim that "Taylor can't park his car".
Yesterday, I was giving a 2-hour talk in Northern Bohemia. It was about black holes that were covered from all conceivable modern physics perspectives (including introductions to both theories of relativity, black hole thermodynamics, holography, ER-EPR, comments on Interstellar, LHC deadly black hole panic, and roles that black holes played in papers when I was publishing them etc. etc.) – a fun topic, I think.
We usually present lectures and courses that focus on "theories" or "frameworks" – which is a "horizontal" presentation of the knowledge. But sometimes an "object-oriented", more "vertical" cut through the scientific insights could be more motivating.
I took a train. The percentage of – especially young – people who are using tablets and smartphones – has approached 100% incredibly closely.
So I was actually below the average in the total effective time spent with electronics. Among 20 people who happened to be in the same compartment of the 4 trains during the day, 17 were playing with a smartphone, tablet, or laptop. The exceptions were a 50-year-old rural woman, and two 70-year-old men. Some of the 17 – almost always young – passengers were playing
both
with a tablet and a smartphone, or both with a laptop and a smartphone.
A young couple sitting on the left side of me was using
two
laptops. ;-) But why I am saying it: the guy was simply watching a one-hour soft porn movie of a sort. The girl felt just a slightly amused, trying to find out whether I had a problem with that. Of course I hadn't. But I didn't watch it. It looked rather lame – and perhaps too soft, too. ;-)
But let me return to the rocket scientist with the elegant shirt.
First of all, even the title of the CNN article contains several mistakes. The shirt isn't covered by "women". It is only covered by one woman – various drawings of the same person. Moreover, it's not quite true that these drawings are "scantily clad". Some of them are scantily clad, some of them are more robustly clad, or whatever is the right way to use these words I am not familiar with. This is a subtle mistake but it already shows that these feminist witch hunters refuse to get familiar even with the most basic relevant details whenever they launch a witch hunt.
Rose Eveleth, a feminist journalist, would tweet:
No no women are toooootally welcome in our community, just ask the dude in this shirt.

882 retweets, 641 favorites. Wow. One should be afraid of his physical safety with this many obnoxious witches and bitches. Astrophysicist Katie Mack wasn't terribly original and added this tweet:
I don't care what scientists wear. But a shirt featuring women in lingerie isn't appropriate for a broadcast if you care about women in STEM

223 retweets, 258 favorites. I don't really care whether someone has – completely unrealistic and unscientific – dreams about STEM communities with close to 50% women. But what I do care about is the ability of the scientists to think logically. And if someone isn't able to figure out that the two sentences above, "I don't care..." and "...isn't appropriate...", are mutually logically inconsistent, he or more likely she just shouldn't be working as a researcher in exact sciences.
"A long white glowing comet" by Leona Machálková. There's nothing wrong about the mix of comets and attractive women. Original by Jana Kratochvílová, 1979.
A major purpose of the broadcast was to present the Rosetta folks the way they really work (and the dress was shown in an interview that I would call informal), so changing their dresses relatively to the usual state would be a media manipulation. And by the way, I also think it's really one of the sources of pride of the scientific culture that they never rate their colleagues or their results according to the outfit or appearance or other superficial criteria. A tuxedo (or a new white lab coat) is simply not a way to become a better scientist!
Moreover, wearing shirts like that doesn't make women "unwelcome" in any sense. This misconception is just another example showing that while Ms Eveleth, Ms Mack, and others aren't able or willing to think fairly, they are eager to whine in every conceivable and inconceivable situation. You know, there are also many T-shirts with physically idealized
men
, like
Superman
.
Their role is completely analogous to the babe from Matt Taylor's shirt. Most of the real-world men (and even a greater percentage of physicists, I guess) don't have as refined muscles as Superman. Superman is more likely to be viewed as a sex symbol, too. But would the appearance of Superman shirts make the environment unwelcome for men? Well, yes, no, they must surely swallow the fact that some people sometimes wear similar clothes. Why is it any different in the case of Superbabes?
Matt Taylor greatly cares about his work – as his tattoos, i.e. permanent crippling of parts of his skin, help to prove. And I just find it deeply insulting if aggressive feminists such as Ms Eveleth and Ms Mack try to criminalize him. They make it sound as if people were obliged to "care about women in STEM".
Let me tell you something. Women have been almost universally allowed in STEM for almost a century and I have always been welcoming towards them. But if having "women in STEM" would inevitably bring similar feminists who poison everything – even the first man-made (not so much woman-made) landing on a comet – then I would indeed say: It would be much better to ban women in STEM again. The current situation is intolerable and banning women would reduce the effectiveness of this human activity less than the constant witch hunts against folks like Matt Taylor who are those that
really drive
these activities. You know, Ms Mack, the amount of positive contributions you have made to science is smaller than the amount of negative ones.
So why don't you just get lost, Ms Mack, instead of constantly trying to repel the men who are doing some actual valuable work?
The destructiveness and self-confidence of the feminists keeps on increasing. Two convicted female Russian criminals visited the U.K. where they were greeted as rock stars and have offered this
criticism of the current Czech president, too
:
Both women were amusingly scathing about the Czech president, Milos Zeman, who last weekend launched a bizarre expletive-filled attack on Pussy Riot during a radio interview. Zeman was another European left-wing leader who – when it came to Russian politics – had lost the plot, they suggested.

"He's better not to talk about Pussy. He doesn't know who Pussy is. We're experts in this and he's not. We are punk and he's not punk. He behaved like a usual patriarchal stupid guy," Tolokonnikova said.

The problem is that your being deviant punk ladies is what makes you less able, and more able, to analyze yourself or anything else. The Czech president may talk about whatever he likes – we have enjoyed the freedom of speech here for 25 years. And incidentally, "patriarchal" is a vacuous adjective. Every civilization known to the archaeologists was patriarchal, at least in the long run, and obscene porn exercises in a Russian church can't change that, pussies.
The Ukraine-founded, now French group of Pussy Riot's colleagues and artists named Female Semen (Femen) showed their "art" in the Vatican today. If this is how the female semen is supposed to work, maybe you should leave this job to the men, too, "ladies". I think that the burning of witches and heretics at stake is a form of superstition but when I see similar "ladies", I must say that it has some point, too. ;-)