European Space Agency's
Rosetta spacecraft
has been in outer space since 2004. Minutes ago, it began the maneuvers to send a fridge-sized module, Philae, to the comet 67P/Churyumov-Gerasimenko that it's been "orbiting" for some time. (If you evaluate the previous sentence: do you think that Russia is invading Europe or vice versa?)
Note that Rosetta is named after the
Rosetta stone
, a stony document released by an ancient Greek king from the Ptolemy dynasty, and Philae is an
island on Nile
where something important with hieroglyphs on it (an object similar to the Rosetta stone) was found.
Rosetta and the space duck
The module should be approaching the comet at 130 kilometers per hour, a speed limit for cars on superhighways, and the comet's surface is 22 kilometers away. So it's just like a short trip with your car. The comet itself is also known as the "whiffy space duck", thanks to its shape. By the size, it's not too different from Manhattan, so today, ESA is planning something like a car trip from New Jersey to Manhattan.
However, ESA can't control the module in "real time": signals travel there (or back) for half an hour and Albert Einstein won't give an exemption from his laws and regulations to anyone, not even ESA! It's almost 4 AU away from us.
If the maneuver goes well, the module should attach itself to the comet and start to drill (up to 1 foot of depth) and find the chemical composition of the hairy rock. In particular, they focus on the possible discovery of amino acids. That could strikingly confirm the theory that comets were helpful in spreading life.
As you know, I do believe that this theory is likely to be true but I don't believe that they will actually detect amino acids. I think that the concentration of these complicated organic compounds on the comets is much lower and what's important is that these comets and similar rocks and pieces of dust have a large volume – and an even larger surface – so even the small concentrations of useful organic materials may be helpful.
My idea is that only one among trillions of comets may carry some useful hi-tech organic compounds but when they hit an Earth-like hospitable planet, life exponentially explodes.
But maybe I am wrong and they will find e.g. liquid with tons of amino acids etc. ;-)
This project to land on a comet was planned more than a decade ago and it looks really impressive, especially if you compare it with the unconstructive events and rituals that are weakening the mankind as a whole and with the stupidity of most humans, including folks like science journalists.
In this seemingly hopeless ocean that lacks any sophistication and sometimes common sense, skillful people who focus on their refined work still exist on some small islands.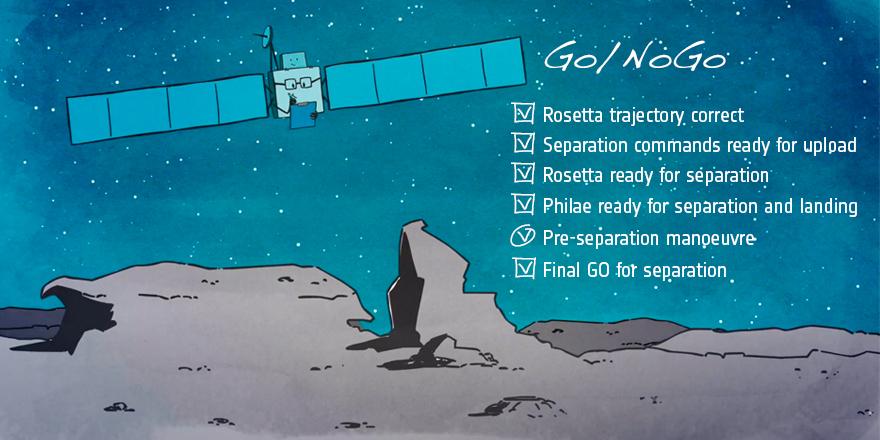 Good luck to Philae. If things go really well, we will forget about a glitch earlier in the morning (which caused a delay) and we will learn about the final success after 5 p.m. Pilsner Winter Time i.e. 11 a.m. Boston Winter Time. It may be hard because one gas jet on Philae – which was meant to stabilize the module while landing – is defunct. But if it lands at a smooth place, the jet won't be needed. I am not aware of any other known deviations from the optimum plan.
You may watch the progress via
XKCD cartoons
or the
Rosetta Mission's Twitter account
.
Philae, the module, and its instruments.
Update
: Around 5:20 pm our time, the ESA folks celebrated – everything was working great. Their discussions suggested that something wasn't right but we will hear about these things later. The landing was softer than expected but something is wrong about the anchors so they may want to reshoot them.