Shannon was the first source that told me that Marine Le Pen is just visiting Prague. However, hours later, all the Czech media (surprisingly?) dedicated lots of attention to the guest.
Her Twitter account
provides you with many pictures from her visit.
On the Charles Bridge, she didn't wear plastic bags – but she carried them which is almost the same thing (and it's exactly the same word in Czech).
She has made a wish while she touched
the statue of John Nepomucký
and this wish will come true, unless superstitions are piles of šit that fail to work, of course. ;-)
Well, then she met ex-president Václav Klaus. He mentioned that left-wing politicians would take a selfie but right-wing ones go to the pub to have beer.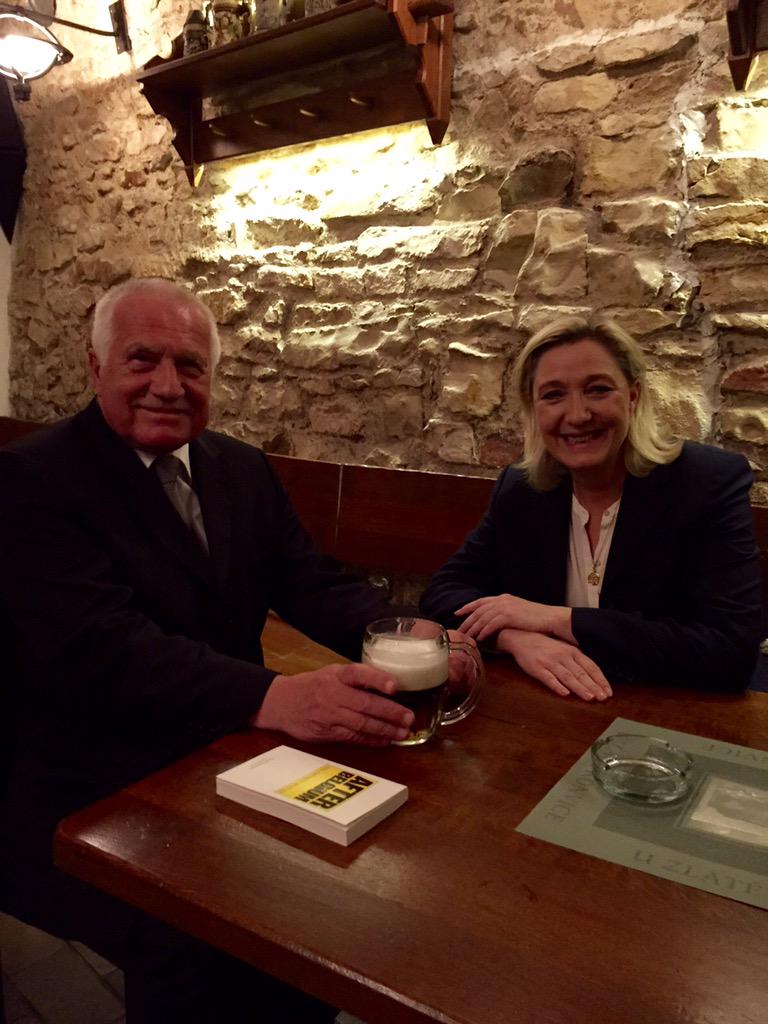 Klaus must have missed that all the stories of her guest are carefully covered on Twitter and maybe also Facebook and Instagram. :-) Klaus likes to point out that the Internet and Facebook cripple the physical condition of the users, especially the young generation. I am afraid that Le Pen is rather close to that doomed generation.
She met some political allies from the OKS party – a fragment of (still) somewhat bigger ODS – which is (unfortunately?) a marginal group. And more importantly, she gave a speech in the Czech Parliament against the European Union.
The European Union has turned into a tomb of our hopes.

When she started her talk, a group of Czech leftists has exposed banners saying "Le Pen Go Home" and "You Are Not Welcome Fascist Lady". She's probably used to that. Incidentally, her being moderate led to conflicts with her dad. It may be tough – I would probably support her in that family feud.
The European Union is a project that is dangerous and utopian which was forced upon us – without our consent and against our will – and it has mutated the idea of the European cooperation into the bureaucratic nightmare of federalist character embedded within the ongoing globalization, a nightmare that is the opposite of liberalism.

She has showed quite some knowledge of Czech history and literature. Maybe she had to prepare those comments. The citizens of the EU were compared to the hero of Franz Kafka's novella The Metamorphosis who morphs into a hideous bug.
We have to adapt and spread in the body of the monstrous creature called the European Union. The European Union is an insanity hiding behind the flag of fake democracy and it strips the countries of their sovereignty.

Moreover, the union is led by people who are unable to defend it from the "greatest threat since the Second World War", probably from Islamism. She said that the euro was destroying our (their) economy. She knew some quotes of the first Czechoslovak president, Thomas Garrigue Masaryk, who has said that Europe (and Czechoslovakia) was a lab built on a great cemetery [of the First World War].
Don't allow this lab to be conquered by some wizards' pupils because it's possible for the nations to go along a different path. The path of peace, prosperity, and a better future.

The media
, e.g.
Czech Public TV
, discuss details about her conflict with her dad, a loan from a Russian bank for her party, and other things.
I don't really agree with everything she says, many of her words sound excessive or oversimplified, and so on, but I am still happy that there's enough freedom in the Czech capital – and, to some extent, even in the Czech media – to give room and visibility to such voices because they're needed. Her visit and speech have been covered by 25 stories in major Czech media so far; TRF is the only foreign-language-based outlet where you can hear about those events, however. Yes, I do think that our media are still freer than those in other Western countries.
Upvoted commenters e.g. on center-right
iDNES.cz
were mostly very supportive of her.
---
A different political topic: The excerpt from a film above shows the strategy taken by Syriza in Greece – they're threatening the creditors by their own default. ;-) What has worked for the black Gentleman doesn't have to work for others, however.
---
Zeman vs communist agent "professors"
One more political event. Czech president Zeman refused to appoint three full professors. Jiří Fajt was unacceptable because the national gallery, when he was its boss, forced KB (Commerce Bank) to pay some extra donation to be used for its directory.
Ivan Ošťádal, a physicist of surfaces at my Alma Mater (Faculty of Mathematics and Physics at the Charles University), was rejected by the president due to his contacts with the communist secret police before 1989. Similarly, Jan Eichler, an international political scientist, has worked in propagandist units of the Czechoslovak People's Army before 1989.
Now, all the presidents of the universities are "outraged" and refused to attend the ceremony which was "postponed". The president is in war with the university establishment.
What do I think about it? I may "mostly" feel uncomfortable when politicians intervene into the scholarly life – especially if we talk about scholars who are real experts. But it's obvious that I am a 100% supporter of Zeman in this case – and similar cases that occurred in the past. The political interference is badly needed because the past of these three men serves as a great example of how incredibly f*cked up our Academia is and what kind of people de facto control it.
A simple Google Scholar search shows that the publication-and-citation activity of these candidates is virtually non-existent. But this kind of corrupt communist ex-agents is exactly the type of scum that is "wanted" by the Academia.
I am sure that those people in the Academia who dare to agree with the Czech president are brutally harassed by their lumpencafé environment. Good that I avoided all the temptation to have something to do with the Czech Academia – I would probably have to vomit 24 hours a day.