The annual Strings 2017
conference (
videos
) is over. The Friday afternoon was dedicated to an optional visit of the participants to the actual capital of Israel, i.e. Jerusalem. Well, you know, I don't want to be controversial. Instead, I am being loyal. Last month,
the Czech Parliament
recognized Jerusalem as the capital of Israel and urged the government to stop funding UNESCO because of its anti-Israel activities.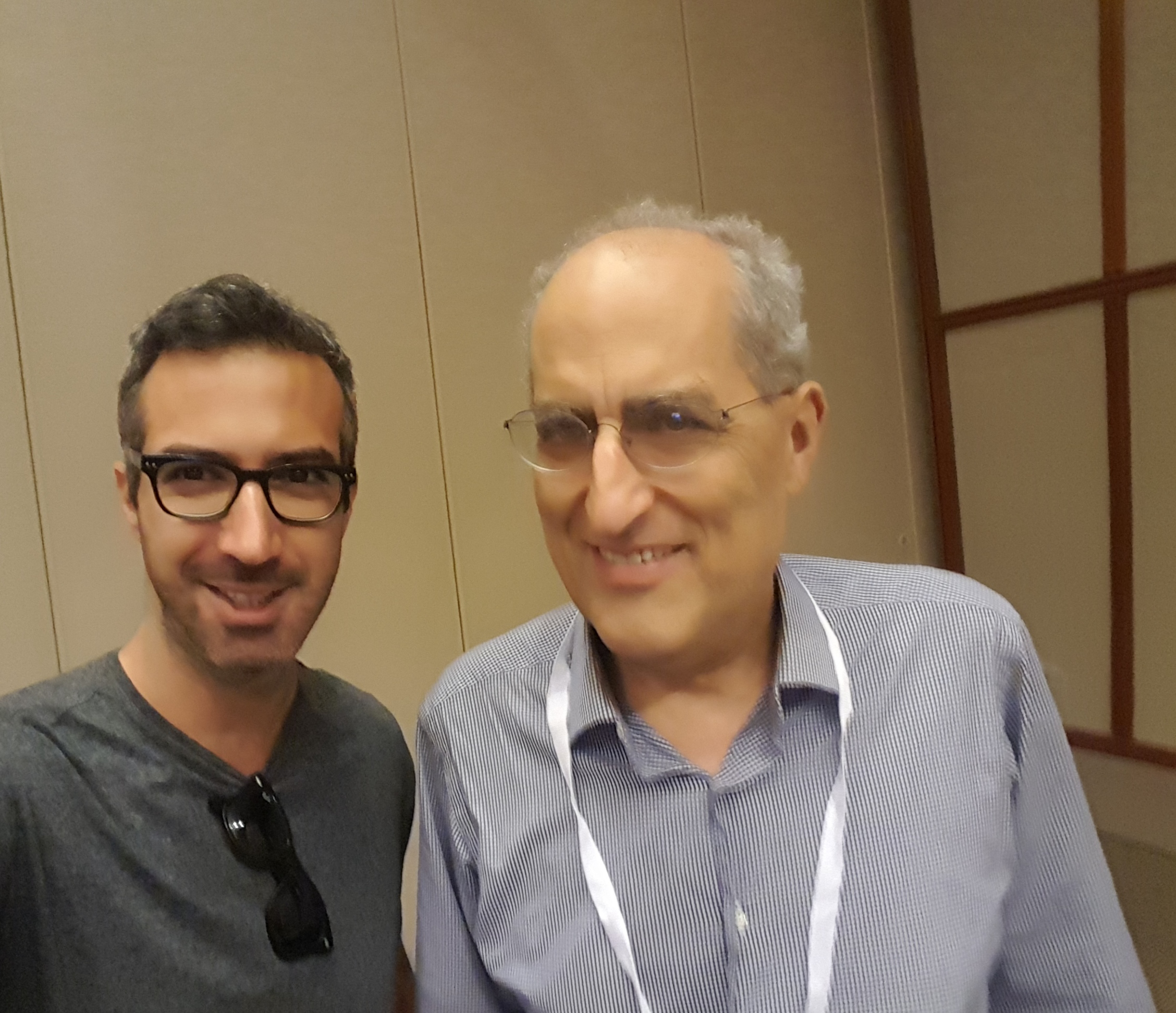 Meanwhile, TRF reader Roy Weinberg who lives in Tel Aviv had an easier job to visit the conference than I will have tomorrow when I go to give a talk about the continuum and discontinuum in Moravia. He attended several big shots'
real technical
talks, just like most people in cities hosting string conferences should, and he picked the nicest person. Ladies and Gentlemen, the winner is... Edward Witten. Congratulations.
I hope that it's OK to repost Roy's half-refreshed selfie with Weinberg and Witten. Roy, I hope that you're working on an updated version of your
theorem
. ;-)
I won't embed
Gross-Weinberg
and
Maldacena-Weinberg
not to become too ludicrous.
Juan Maldacena was surprised about the number of Roy's tattoos. Most readers will surely be surprised that Juan was surprised – his countrymate Pope Francis has
39
tattoos
on his back.
I do think that it's weird that there are so few people who are clever enough to find about such famous scientists in the town and who take the selfies. Imagine how many people would be taking selfies with Kate Perry or someone like that. And Tel Aviv is almost certainly above the average.
Because Strings 2018 takes place in Okinawa, Japan and I wasn't able to
find any TRF visitors from Okinawa
at all – correct me if I were too sloppy (this compares with some 600 users in Tel Aviv who visit TRF each month) – Japanese readers should already start to work on their plans for June 2018.
Czech PM Sobotka is just visiting Japan. He paid tribute to the memory of the Czech architect who built the A-dome in Hiroshima, the only building that survived the blast, and noticed that the Japanese were rather
enthusiastic
not only about
Czech classical music
but also about Alfons Mucha's "
Slav Epic
" Art Nouveau impressive kitsch. If one thinks about it, this genre of painting is rather similar to some of the cute, infantile looking Japanese genres, so why not.
But back to the main point. Not that fame is important but I still think that it's somewhat depressing that even if you become one of the 10 most famous physicists in the world, you will find approximately one bold physics fan with a good taste who wants to take a selfie with you. And that the videos with the conference talks only have at most a few hundred views. But I am afraid that these numbers do faithfully represent the degree of the general public's interest in theoretical physics.